Winterton Village Hall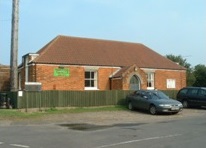 Winterton-on-Sea Village Hall is located in the heart of the village at King's Corner. The Hall is available for regular and casual hire.
The charge for clubs and charities is £6 per hour, and for private hire £10 per hour. A 10% discount is applied for residents of Winterton-on-Sea. To book, call the Caretaker on the new number for Village Hall bookings which is 07518 630137.
A copy of the hiring terms and conditions is available below.
Please note due to the fluctuations in covid-19 infection rates the Parish Council reserve the right to close the hall at short notice or amend bookings in the interest of public safety.
Winterton-on-Sea Village Hall is managed by Winterton-on-Sea Parish Council.
Hall bookings can be made by contacting the Caretaker Telephone: 07518 630137.
For all other queries please contact the Parish Clerk on clerkwinterton@gmail.com or Telephone: 07918 978921