Winterton Village Hall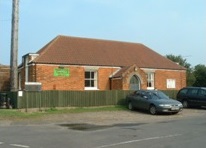 PLEASE NOTE IN THE INTERESTS OF PUBLIC SAFETY THE VILLAGE HALL IS CURRENTLY CLOSED DUE TO THE RECENT OUTBREAK IN CORONAVIRUS.
Winterton-on-Sea Village Hall is located in the heart of the village at King's Corner. The Hall is available for regular and casual hire, and hosts clubs, societies, groups and parties.
The charge for clubs and charities is £6 per hour, and for private hire £10 per hour. A 10% discount is applied for residents of Winterton-on-Sea.
The Hall has a capacity for 60 people, and is not licensed. Tables and chairs are provided, along with a well equipped kitchen.
To book, call the Booking Secretary on 07707 728525.
A copy of the hiring terms and conditions is available below.
Winterton-on-Sea Village Hall is managed by Winterton-on-Sea Parish Council, through the Village Hall Committee. The Committee consists of two Councillors and four members of the public, all of whom are volunteers. Committee meetings are open to the public, and more information can be found at http://www.winterton-on-seaparishcouncil.org.uk/community/winterton-on-sea-parish-council-15212/village-hall/